Water belongs to everyone
by Manolo Benvenuti, Claudio Ballestracci e Giulio Accettulli
soundtrack by Marco Mantovani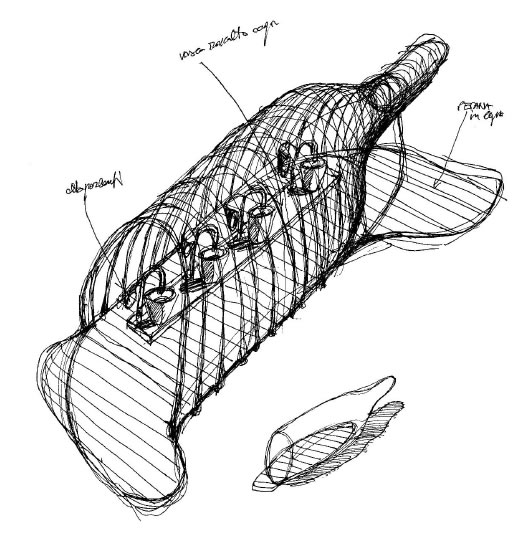 Water belongs to everyone is both work of art and ethical testimonial. Present yet out-of-time, it is protest as well as dream. Poetic spontaneity and conspicuousness of the creative force join in speaking to sight, touch, sound – and emotions1.
The conceptualization emerged in Rimini on the occasion of the Ambiente Festival 2010 (Environment Festival 2010) and the realization took place in Périgueux (France) at the occasion of the Art et eau 2011 (Art and water 2011) festival. Water belongs to everyone is a meditation on the implications of industrial exploitation of the water resource as well as on our personal bad habits, which damage and impoverish the environment. In essence, we propose to return to water its dignity as a common and relational good; we do so by transforming the message into poetry of the senses, which communicates without passing through the filter of reason.
A steel trellis and sheets of recycled Pet are joined to shape a monumental bottle that emerges from the earth as humongous piece of litter. Inside, water gushes from four fountains which are perfectly aligned. As soon as the hand nears the water jet, however, the flow stops and is replaced by music. Each fountain reveals itself to be a different string instrument – first and second violin, cello, and viola – each executing an ever-changing score, at times vigorous, now unexpectedly vivacious, now quiet and dreamy. The visitor now discovers himself to be composer; he seeks out the qualities of his own instrument, searches for harmony with others, or personalizes the execution of the whole. Maestro Marco Mantovani has conceived the tune of each fountain especially for this creation. They blend into an infinite combination of sounds, and a string quartet is never identical to itself.
After Périgueux Water is for everyone has been exhibited at Rimini (March 2012), Paris (May-June 2012), and Geneva (August 2012).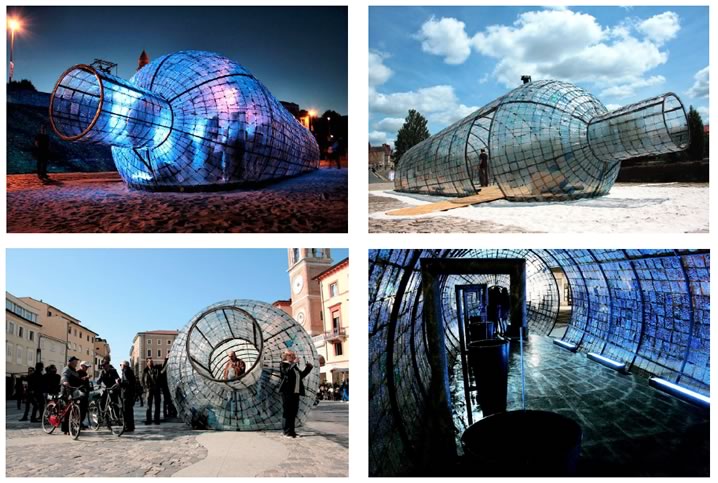 Delivery phase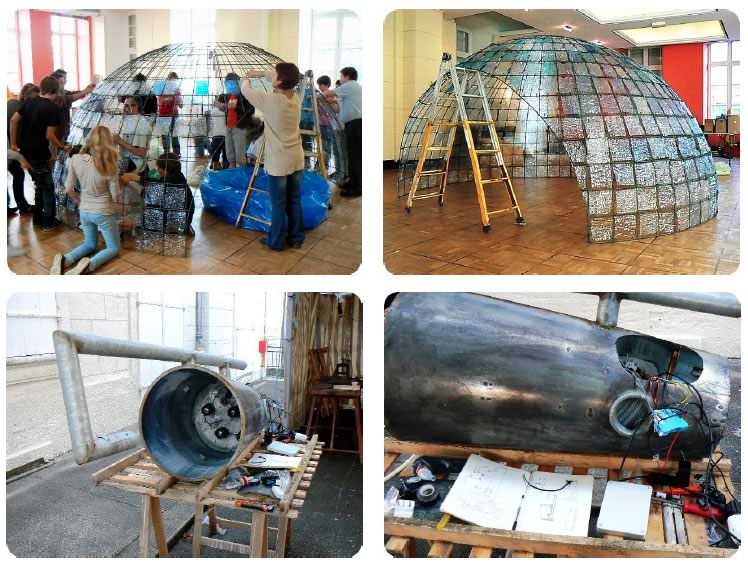 L'ACQUA È DI TUTTI – scarica il progetto(ita)
« SI-Fest 2013 Species of spaces Al via il SI-FEST con l'inaugurazione di L'Acqua è di Tutti – comunicato stampa »